Military Health
We will get your service members ready-drill weekends, month-long readiness programs, you name it. No matter how demanding the logistical requirements, or how remote the settings, ACC Health is ready to respond. We're well trained to deliver quality dental and medical care in the most trying conditions and situations, and we've done just that in more than 39 states. No matter how difficult the circumstances we never compromise on the compassion and skill we bring to the mission. Nothing stands between ACC Health and healthier smiles and bodies.
To ensure the success of this mission we have several types of settings to offer. We prefer to set up a mobile clinic in an armory, using all of our own state-of-the-art self contained portable equipment and supplies. This benefits the service members by providing ample space and privacy to ensure they have a great experience. We also maintain a fleet of mobile dental/medical units stocked with the latest generation of high-end portable equipment. This gives us the capability to set up a fully functioning self contained field clinic at one location or more, and for one event or more. Our team of professionals is made up of employees, not contract labor. We believe this is a competitive advantage. Our employees are happy carrying out our mission of compassionate care and accurate documentation.
Dental Care
95% Dental Conversion Rate on Location
Yearly dental exams are a standing order for every reserve soldier, airman, sailor, and marine. The exams are an invaluable preventative measure, as dental pain is the most frequent medical emergency during deployment.
ACC Health provides service members with high quality, on location dental care to help ensure their readiness. We have an average 95% (or better) conversion rate in dental readiness, improving CAT 3 soldiers to CAT 2, and all DENCLASS entry is done in real-time. ACC Health can provide dental exams and treatment on location for any number of service members. For appropriate candidates we have providers on location that will perform both oral surgery and root canals. Depending on individual diagnosis, there may be some referrals for these procedures to be performed by a specialist. ACC Health also maintains a full time case manager to oversee aftercare and to coordinate treatment that cannot be competed on location. This service has traditionally been needed by less than 1% of the soldiers who receive treatment on location. Service members seen by our providers traditionally have a 0% REFRAD rate from their mob site.
Medical Care
One Stop Medical Readiness-Red to Green Conversion on Location
ACC Health has improved the medical readiness for over 20,745 National Guard troops in 2012—providing PHAs, labs, immunizations, audiology, vision, EKG, and full time case management. All uploading to MEDPROS and HRR is done in real-time.
Military Services at a Glance
95% dental readiness conversion on location
All services required for medical readiness provided on-location with no minimums
SPRINT testing on location
Full women's health readiness program
Case Management available
Portable equipment for set-up inside armory
Fleet of mobile dental and medical units
ACC Health professionals are employees, not contracted labor
Providing field dental services in over 39 states
Over 7 years experience with military SRP's and PHA's
Ability to complete simultaneous events and locations
DENCLASS, MEDPROS, HRR real-time entry
Pre-event record scrub
A woman-owned business since 1990
---
Clients
Business Classification

Georgia Army National Guard
California Army National Guard
New Mexico Army National Guard
Kentucky Army National Guard
Oklahoma Army National Guard
Kansas Army National Guard
Pennsylvania Army National Guard
South Dakota Army National Guard

Small Business
NAICS
561320 Temporary Help Services
621399 Offices of All Other Miscellaneous Health Practitioners
339116 Dental Laboratories
621111 Offices of Physicians (except Mental Health Specialists)
621112 Offices of Physicians, Mental Health Specialists
621210 Offices of Dentists
621320 Offices of Optometrists
621340 Offices of Physical, Occupational and Speech Therapists, and Audiologists
621498 All Other Outpatient Care Centers
621610 Home Health Care Services
621999 All Other Miscellaneous Ambulatory Health Care Services
Central Contract Registration Information:
DUNS # 624343463 CAGE Code 4HZ92
GSA Contract #V797P-7134A
Rapid City, South Dakota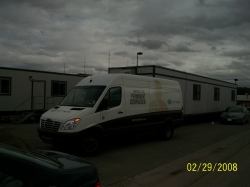 05.11.2011
ACC Health working an event in Rapid City.
"In the past 18 months we have readied and deployed 4 GAARNG Aviation units to OND and OEF, and are in the process of preparing a 5th. One of the biggest hurdles we have to clear to get any unit ready is medical readiness. As for this, the professionals from ACC Health have proved priceless. During our SRP process they are on time and target providing care and taking care of each individual soldier ensuring the soldiers medical readiness, which both protects my soldiers and provides a tremendous service for our country in yet getting another unit ready for the war fight. Thanks to your team for what you do for the GAARNG." "

– COL Brent Bracewell, 78th AVN TC Georgia Army National Guard